Overview
Armagh City, Banbridge and Craigavon Borough Council is conducting a consultation to seek your views on our Draft Performance Improvement Objectives 2021 to 2023.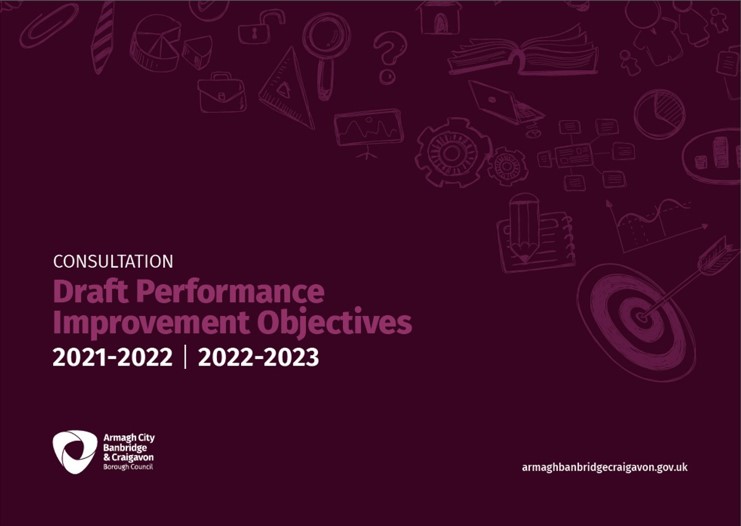 The draft objectives and consultation questionnaire can be accessed on the Council's website.  These may be found at: www.armaghbanbridgecraigavon.gov.uk/consultations
The consultation period closes on Tuesday 25 May 2021
Our Performance Improvement Objectives reflect how we as an organisation commit to the long-term outcomes identified in the Community Planning process, as well as the work we will do to ensure we continue to provide high quality services.
The Community Planning process has shaped our new Corporate Plan and its vision has been adopted by the Council as its corporate vision. 
The Council welcomes any comments you may wish to make on the draft Performance Improvement Objectives; the draft Equality (EQIA) Policy Screening form; and Rural Needs Impact Assessment. 
Should you wish to receive the document in paper copy or an alternative format please contact us at the email, telephone number or address given below.
Email:            performance@armaghbanbridgecraigavon.gov.uk
Telephone:  0300 0300 900
Address:    Performance Team, Armagh City, Banbridge and Craigavon Borough Council, Old Armagh City Hospital, 39 Abbey Street, ARMAGH, BT61 7DY 
All responses should be returned by email or post using the details above by Tuesday 25 May 2021.
Why your views matter
We are keen to ensure our Performance Improvement Objectives have a positive impact on the quality of life for all stakeholders across the Borough. We want to give surety to residents, businesses and all of our stakeholders that we are fully committed to using our best efforts  to deliver services that are efficient, economical and of an excellent standard.
The purpose of this consultation is to seek your views on our draft Performance Improvement Objectives 2021 to 2023. We welcome your on-going feedback and comments or suggestions on how we might improve our services, and in particular, any proposals for new improvement objectives.